Buy Telfast on the Internet from PharmacyDiscounter.com.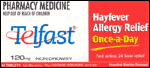 CLASSIFICATION:
This medicine is classified as a Pharmacy Only Medicine.
DOSAGE:
60 mg tablet: Adults, children over 12 years: 1 tablet 1-2 times daily when required
120 mg tablet: Adults, children over 12 years: 1 tablet daily when required.
USES:
Histamine H1-receptor antagonist. Symptomatic relief of seasonal allergic rhinitis in adults and children greater than or equal to 12 years.
CONTRAINDICATIONS:
Terfenadine hypersensitivity.
PRECAUTIONS:
Pregnancy, lactation, children < 12 years.
ADVERSE REACTIONS:
Headache; dizziness; drowsiness; nausea; fatigue; insomnia; skin rash.
INTERACTIONS:
Al and Mg hydroxide containing antacids.
PREGNANCY CATEGORY:
B2: Prescribing Medicines in Pregnancy.
Please note that products with more than one constituent generic are classified according to the generic with the most restrictive classification for use in pregnancy. Also note that the route of administration by which a generic component is used may affect the categorisation. Due to legal considerations in this country, sponsor companies have, in some cases, applied a more restrictive category than can be justified on the basis of the available data.
Category B2 Drugs which have been taken by only a limited number of pregnant women and women of childbearing age, without an increase in the frequency of malformation or other direct or indirect harmful effects on the human fetus having been observed. Studies in animals are inadequate or may be lacking, but available data show no evidence of an increased occurrence of fetal damage.
DISCLAIMER:
The classifications regarding use of branded medicines in pregnancy provided are based on information provided by the manufacturer. In some cases there may be discrepancies between the Product Information and the information above due to the process of ongoing document revision.


Buy Telfast here from Pharmacy Discounter
Telfast is a pharmacist only medicine.