Buy Lora-Tabs on the Internet from PharmacyDiscounter.com.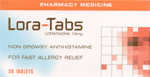 CLASSIFICATION:
This medicine is classified as a Pharmacy Only Medicine.
INTENDED USE:
Lora-Tabs is a medicine that belongs to a class of medicines known as antihistamines. It is a non-sedating antihistamine that only needs to be taken once a day. These help reduce allergic symptoms by preventing the effects of histamine, which is produced by the body.
Lora-Tabs relieves symptoms associated with allergic rhinitis, (hay fever) such as sneezing, runny or itchy nose, and burning, watery or itchy eyes. It is also used for the relief of symptoms and signs of chronic urticaria, (hives) and other allergic skin disorders. It is not considered addictive.
DOSAGE:
Adults and children over 12: 1 tablet daily.
Children 2 years and over with bodyweight > 30kg: 1 tablet once daily.
Children 2 years and over with bodyweight < 30kg: 5mg (half a tablet) once daily.
ACTIVE INGREDIENT:
Loratadine 10mg.
PRECAUTIONS & CONTRAINDICATIONS:
Do not use Lora-Tabs if you are allergic to it or any of the ingredients listed above, or if you are pregnant or breastfeeding. It is not suitable for children less than 2 years old, or if you have liver disease or eye problems (such as high pressure in the eye or glaucoma), sugar diabetes, prostate enlargement, or problems with your liver, kidney or bladder.
ADVERSE EFFECTS:
Rare occurence of headaches, stomach upset, drowsiness, and dry mouth.


Buy Lora-Tabs here from Pharmacy Discounter
Lora-Tabs is a pharmacist only medicine.