Buy Zyrtec online at discount prices - Click here to Buy Zyrtec now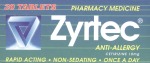 CLASSIFICATION:
This medicine is classified as a Pharmacy Only Medicine in New Zealand.
INTENDED USE:
Zyrtec is a Histamine H1-receptor antagonist which can be used for the relief of symptoms associated with seasonal and perennial allergic rhinitis; allergic conjunctivitis; insect bites; uncomplicated skin manifestations of chronic idiopathic urticaria. It is fast acting, usually within 10-20 minutes after taking it, non-sedating and its effect lasts for 24 hours.
DOSAGE:
Zyrtec tablets may be taken with or without food. Adults: initially 5-10 mg once daily; children 6-12 years: initially 5-10 mg daily in 1 or 2 divided doses; max. 20 mg/day.
Children 2-6 years: initially 2.5 mg once or twice daily.
Renal impairment: initially 5 mg daily.
ACTIVE INGREDIENT:
Cetirizine hydrochloride 10mg
PRECAUTIONS & CONTRAINDICATIONS:
Zyrtec shoulds be used with caution in renal dysfunction; epilepsy; pregnancy, lactation and children < 2 years.
Adverse reactions include Somnolence, fatigue and dry mouth.
WHO SHOULD NOT TAKE ZYRTEC?
Talk with a doctor if you have liver disease or kidney, before starting to take Zyrtec.
Anyone who may be considering becoming pregnant or are breastfeeding
Anyone that is over 60 years old without first speaking with your doctor
OTHER IMPORTANT INFORMATION ABOUT ZYRTEC:
Use caution when driving or operating hazardous equipment while taking the Zyrtec tablets.
Limit the amount of alcohol intake while taking medication. Zyrtec may increase drowsiness.
If you miss a dose, take the Zyrtec as soon as you realize it. If it's almost time for the next dose of Zyrtec, skip the dosage you missed. Do not take a double dose to catch up.
Notify a doctor, contact a pharmacist, or seek emergency attention, if you begin to have difficulty breathing, swelling of your lips, swelling of your tongue, or develop a rash while taking Zyrtec.
Store your Zyrtec at room temperature. Keep Zyrtec away from moisture and heat.


Buy Zyrtec online at discount prices - Click here to Buy Zyrtec now