Scopoderm - Buy Scopoderm by Clicking Here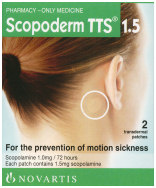 CLASSIFICATION:
This medicine is classified as a Pharmacy Only Medicine.
USE:
Scopaderm (Scopolamine) is indicated in the prevention of symptoms of motion sickness such as nausea, vomiting and vertigo. It has strong antiemetic and anticholinergic actions.
GENERAL INFORMATION:
Pack: Each pack contains 2 transdermal patches that are applied behind the ear for up to 72 hours. Use only one patch at a time.
ACTIVE INGREDIENT:
Hyoscine (scopolamine); long-acting transdermal patch 1.5 mg.
DOSE:
Adults and children > 10 years: apply 5-6 hours before embarking on journey to a dry, hairless area of skin behind the ear. Remove at the end of the journey or after 72 hours and replace with fresh patch if necessary. Hold by the edge of the patch trying not to touch the silver adhesive side. Wash hands after applying and removing patch. Wash site of application after removal of patch.
WARNINGS/CAUTIONS:
Pyloric stenosis; impeded urine flow; intestinal obstruction; metabolic disorders; renal, hepatic impairment; raised IOP or Glaucoma; epilepsy; elderly; pregnancy, lactation, children < 10 years.
ADVERSE REACTIONS:
Dry mouth; blurred vision; drowsiness; local irritation; rare: urinary retention; impairment of memory, concentration; restlessness; disorientation; confusion; hallucinations; others.
PATIENT INFORMATION:
Avoid alcohol. Wash hands after applying and removing. This product may cause drowsiness. If you are affected by drowsiness or other side effects of the nervous system, then you should not attempt to drive or operate machinery.
PROPERTIES AND SCOPE OF USE OF SCOPODERM:
Scopoderm TTS constitutes a new method of using scopolamine in the form of a patch which is applied behind the ear and which provides for programmed release of the active substance through the intact skin into the bloodstream over a prolonged period of up to 3 days. This so-cAlled transdermal therapeutic system containing scopolamine is designed for the prevention of motion and travel sickness, which gives rise to nausea, dizziness, and vomiting.
RESTRICTIONS ON USE OF SCOPODERM:
Scopoderm TTS for travel sickness must not be used by persons hypersensitive to scopolamine or by those suffering from glaucoma, those under 10 years of age, Pregnant and nursing mothers should only use Scopoderm for travel sickness after consulting their doctor.

Click the following link to Buy Scopoderm online:
Buy Scopoderm
*Approximate US Price only