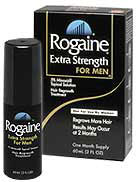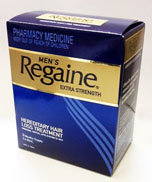 As many as 40% of men worldwide experience hair loss - a much higher percentage than you may have expected. Now, that may not make you feel any better, but you are not alone. You may feel embarrassed about losing your hair and because it can start as early as your 20s hair loss may make you feel older than you should. There are many different causes of hair loss, but in most cases it is hereditary.

Regaine/Rogaine is a clear solution containing Minoxidil that you apply to the top of your scalp where hair is thinning. Using it twice a day can regrow hair and stop hair loss.

Apply Regaine/Rogaine in the morning, once your scalp has dried after you wash your hair. Then apply it again in the evening - an hour or two before you go to bed - so that it has time to dry completely. A lot of people like to apply Regaine/Rogaine around dinnertime. Be sure to wash your hands after each application of Regaine/Rogaine.

The active ingredient in Regaine/Rogaine (Minoxidil) revitalizes shrunken hair follicles, increasing their size. With continued application of Minoxidil using Regaine/Rogaine - follicles gain even greater volume, their growing phases become longer, and they produce longer, thicker hairs.

Headway is another product that has Minoxidil as the active ingredient to stop hair loss - and can be purchased at a lower price than Regaine/Rogaine.

Buy Regaine (Rogaine) here. Orders are dispatched within 24 hours, and sent by FREE fast worldwide delivery.



How to Use Regaine (Rogaine)
Apply 1ml of Regaine (Rogaine) twice daily to a dry scalp starting at the centre of the area. Massage the solution into the scalp gently with the fingers. Wipe any excess Regaine (Rogaine) away from the forehead and wash hands thoroughly to remove all Regaine (Rogaine) from hands.

Do not use more that the recommended dose of Regaine (Rogaine) or more than twice a day.

Wait 1 hour after applying Regaine (Rogaine) before wearing any protective headgear.
Expected Outcome of Regaine (Rogaine)
Regaine (Rogaine) may take up to 4 - 6 months to take effect.
Onset and the degree of regrowth vary between individuals.
Regrowth will start a vellus (downy) hair followed by pigmented health hair.
Once regrowth has occurred you must continue to use Regaine (Rogaine). If Regaine (Rogaine) is stopped, relapse to the pre-treatment pattern of hair loss is likely.
If no effect after 12 months of using Regaine (Rogaine) cease using.
Precautions of Regaine (Rogaine)
Avoid contact with the eyes, mucous membranes or broken skin. If accidental contact occurs wash with plenty of cool water.

Avoid inhalation of the Regaine (Rogaine) spray mist.

If using hair styling products or a hairdryer, apply the Regaine (Rogaine, minoxidil) first and wait until it has dried before using the styling product.

Do not use Regaine (Rogaine, minoxidil) on other parts of the body.

Avoid shampoos and conditioners containing silicone compounds as these can coat the scalp, preventing contact with Regaine (Rogaine, minoxidil)
Common Adverse Effects of Regaine (Rogaine)
Itching, rash, scalp dryness
When to Seek Further Advice
If there is severe allergy to the Regaine (Rogaine) (severe skin reaction, difficulty breathing, swelling of the face, lips, tongue) stop using Regaine (Rogaine) and contact pharmacist or doctor immediately

Watch for systemic effects (fluid retention/oedema - swelling or puffiness of hands and feet, rapid heart rate/palpitations, increased frequency of angina or new onset of angina) and contact your pharmacist or doctor if any occur.


Regaine (Rogaine) is a pharmacist only medicine.